Pleasure is a basic need? "Yes!" says the female-founded sexual wellness start-up OH MY! FANTASY. With their Date Boxes, they are laying a valuable stone for the de-tabooization of female pleasure by celebrating lust, intimacy, and communication. We talked to founder Annika about her start-up, date boxes and sex in a relationship:
Can you please introduce yourself?
Sure, I would love to: I'm Annika Breu from Munich, 28, and I founded the sexual wellness start-up OH MY! FANTASY. OH MY! FANTASY is a female-centered offer especially for women in relationships and enables the discovery of new erotic adventures, we also lovingly call them "sexperiences", on the very personal path to one's own pleasure.
How did you come up with the idea to start the startup OH MY! FANTASY?
I encountered the sexual wellness market during my studies while working on a project at the CDTM (Centre for Digital Technology and Management) and was immediately fascinated. The sexual wellness sector is growing very fast, and it is my mission with OH MY! FANTASY to create female-centered products in this area that are a true alternative to the pornographic images that still very much dominate the current discussion on sexuality.
True to the motto "Pleasure is your birthright", it is close to my heart to create a framework in which female pleasure can fully develop during sex in a relationship. This is my personal contribution to female empowerment because I am convinced: If you can clearly communicate your desires in bed, you can do the same in all other areas of life. From Bedroom to Boardroom!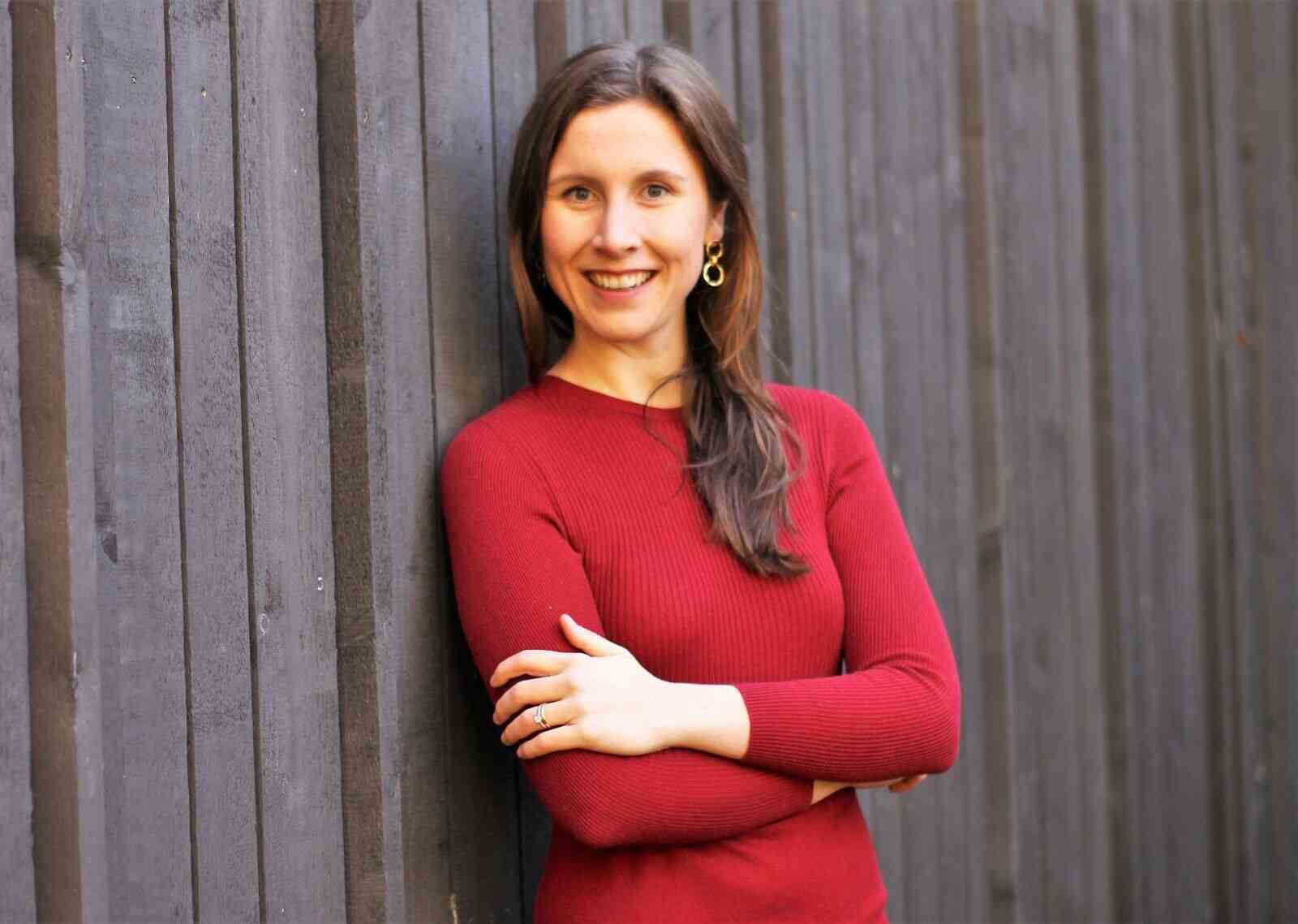 Why is there still so much shame and insecurity about sex in a relationship?
I think it's mainly because there is no open discourse about topics like sex or pleasure in a relationship. When you start asking questions about the status quo on sexuality and pleasure, which has been taken for granted for decades, striking findings often come to light: On the one hand, there is the orgasm gap, i.e., the fact that far more men reach orgasm than women. For men the percentage is about 90 %, for women only 64 %! The anatomy of the vulva has long been ignored and the imagery of the media is clearly focused on vaginal orgasms.
At school, students are only taught the most necessary things in sex education. This means as much as contraception and sex on the biological level. Throughout our lives, we do not learn to explore what feels good to us and what we derive pleasure from. Of course, without knowing our preferences, it becomes difficult to talk about them. On top of that, we sometimes don't know HOW to address everything about sex. It happens quickly that someone feels hurt and insecure, and nobody wants that.
It's a mixture of all these factors that make talking about sex very difficult. With OH MY! FANTASY, we advocate an open exchange about the topics of desire and sex in a relationship.
How does a date night with a Date Box for couples from OH MY! FANTASY work?
The Date Boxes from OH MY! FANTASY make it easy and playful to discover new sides of each other and to consciously plan intimate time for two. The themes of our date boxes range from sensual and romantic to playful and kinky. So that couples can concentrate on the important things. The Date Box contains everything needed for a sizzling date night: a date guide with exact scenarios for both partners, playlists and audio instructions and the matching accessories and toys.
Thus, we create a relaxed and safe space for couples with the Date Boxes. How the scenario is played out is very individual – we provide the script, the couples direct: Too spicy? Too vanilla? Just play the Date Box according to your rules. Everything that feels good is allowed. After all, that's what we're all about – getting to know and exploring lust and sex in a playful and very individual way.
Why is openness and communication so important for sex in a relationship?
Communication is really the key to a fulfilling sex life. Unfortunately, it often comes far too short: we live in a society where talking about one's preferences during sex is not supported or perhaps even condemned – in this process, shame is then added to the mix.
It is still difficult to talk about sexual dissatisfaction because you might not want to offend your partner. But that is complete nonsense. No one can tell what you like or don't like. Even in very fresh relationships this can lead to sex not being really fulfilling for both of you. For example: someone doesn't like to be kissed on the neck or caressed at all. But if the other person always does exactly that during sex, and the person doesn't communicate that properly, the desire for sex will automatically also become less and less: sex will then be associated with something that the person doesn't like.
It can be helpful if we write down our wishes and needs and give them to our partner to read. If both are already very familiar with each other in the relationship, the likelihood increases that you will dare to discuss your own preferences or try out new things together.
After all, how can we talk freely and, above all, without hesitation about our sexual preferences if the approach to this conversation is hardly given? To initiate communication about this, our Intro Date Box comes with a questionnaire that allows you to talk openly about your sexual preferences and desires. Experience has shown that shame is much reduced when both partners set a firm framework in which they can talk about their secret fantasies and express what they have secretly wanted for a long time without condemnation.
What advice do you have for people who want to explore their desire and experience a new "sexperience" in their relationship?
Plan your sex! And take time for each other. Sure, a quickie is also quite nice, but trying something new together needs patience and especially some time. The advantage of a sex date is the openness and that the intentions of both partners are known and clear – full transparency!
I believe that sex dates are interesting for every couple, and especially for couples in long-term relationships. Our stressful everyday life sometimes just doesn't leave room for sex, especially if you work full time, maybe have kids or just have a lot to do. That's where a planned date can be the perfect way to avoid getting lost in the stress. And planning and looking forward to something usually appeals to everyone.
Our date boxes include questionnaires for both, as well as step-by-step instructions that will turn even the inexperienced into real experts. Take it slow, try things out and communicate when you like something – or not. The secret of a happy relationship is that you never stop discovering each other! We are happy to accompany couples on this journey to sex in their relationship.
Which Date Box for couples would you recommend to people to get started?
Our Intro Box is our absolute bestseller and perfect for getting started with the game of expectations: This date night starts with a sensual questionnaire that lets couples talk openly about preferences in bed. Then it goes into a seductive "active-passive" role play as an introduction to the game with expectations – with instructions for both partners. The box includes matching accessories and toys: a classic blindfold, seductive satin restraints, a tenderly powerful vibrator, as well as a massage candle and vegan lubricant.
What tips do you have for couples to talk openly about their sexual preferences?

Sometimes it is not that easy or there is simply not enough time to talk to your partner about your preferences in bed or to listen to yourself, where your own desires lie. I would recommend to starting slowly and talk openly and above all honestly with your partner about what you want, even if it takes some courage. And as I said, if you don't want to talk, you can also write or be guided. For example, with our digital, free guide with which you can playfully find out which erotic adventures you would like to try out together in your relationship.
Consciously take time just for you (e.g., at a romantic dinner, if you like also with a glass of wine), print out the guide and go through it together. That alone is an exciting date night and the first step to many more sizzling date nights!
What is your secret tip for sex in a relationship?
Inspiration from outside can be a real game changer in intimate relationships! Sometimes it takes a different perspective to freshen up our love life. Maybe both of you don't even know if you're into BDSM if you've never tried it before.
And self-love is an extremely big factor in having a fulfilling sex life, because if I don't like myself or criticize everything about myself, how am I supposed to have relaxed sex if I think about every flaw about myself that the other person might see? We must not forget that even if we think of ourselves in this way, the other person sees us in a completely different way and obviously finds us attractive, otherwise he/she would not be interested in sex.
Do you have any tips for pleasure and sex in a relationship? Let us know in the comments!
---
Note: This interview often refers to "women" and "men" in a relationship. However, society consists not only of cis-men and cis-women, but also of trans, intersex or non-binary people. Therefore, we at Vulvani would like to point out that there is this colorful diversity of gender identities. In addition, relationships can not only consist of conventional couple relationships, there is a whole range of relationship forms: Monogamous relationships, open relationships, couple relationships, polyamorous relationships with multiple people, committed relationships, loose relationship forms, and many more. We have forgotten something or someone? Write it to us at hello@vulvani.com!
---