Illustration by Magdalena Otterstedt / Kopfüber Design for Vulvani
Menstrual products in Germany were taxed with the increased tax rate of 19 percent (also known as luxury tax rate) until the end of 2019. After much lobbying and with the successful petition 'Periods are not a luxury', two menstrual activists from Hamburg, Germany managed to change the tax rate for menstrual products. Starting January 01, 2020, following the approval of the German Bundesrat, all menstrual products (except panty liners! – for whatever reason) will finally be subject to the reduced tax rate of seven percent!
German tax system: 7% vs. 19%
There are two different tax rates in Germany. The reduced tax rate of seven percent applies to products of daily use. This is intended to relieve people financially when purchasing basic necessities such as food or toilet paper. However, products that are certainly not part of everyday shopping are also subject to the simplified tax rate. These include, for example, salmon caviar, cut flowers or paintings. Menstrual products, on the other hand, were taxed at the increased tax rate of 19 percent, colloquially known as the tampon tax. Like really? Aren't these products of daily use as well? The tax rate implied that menstrual products are not basic needs. But are tampons, pads or menstrual cups really a luxury? Unfortunately not. The increased taxation did not represent the truth. Because unless you practice free bleeding, menstruating people without the necessary menstrual products are pretty much lost. Periods are therefore not a luxury that we treat ourselves in month after month!
Global activism against the tampon tax
In recent years, various initiatives have been formed worldwide to campaign to remove the tampon tax. The demand is often similar: politicians should recognise period products as a basic need and reduce tax rates accordingly. There have already been positive examples on an international level who have acted against the tax discrimination of menstruating people. For it is time that the necessity of equal rights is understood and lived at all (political) levels. In 2020, there is no longer any room for sexism in our tax system and the systematic discrimination of menstruating people.
Who are the faces behind the petition 'Periods are not a luxury'?
Nanna-Josephine Roloff and Yasemin Kotra have together launched the petition 'Perios are not a luxury – lower the tampon tax!' On March 8, 2018 they published the petition on the online platform change.org, conviently the International Womxn's Day. It demands that menstrual products in Germany should be regarded as basic needs and be taxed at the simplified tax rate of seven percent. The tampon tax is also a symbol of justice and the increased tax rate of 19 percent discriminates against all menstruating people.
'We don't want to just keep observing, we want to participate. Participating and fighting for equal rights and women's rights. But where should we start? We decided to put our finger on the sore spot of systemic discrimination and do something about the unfair taxation of our menstruation. An injustice that we can no longer tolerate!'
Persistence and lobbying
The two activists have managed again and again to get the media's attention, large and small, to report on their petition. In order to place a topic in the centre of society and to achieve a change in mindsets, media presence is of great importance. Because only in this way can taboo topics become visible and accessible to the broad masses. And the international press has also become aware of the two women from Hamburg – and rightly so! In the last 1.5 years, they have found more than 180,000 supporters for their petition and convinced politicians with their arguments and perseverance. And the result is impressive: Menstrual products will be taxed in Germany from January 2020 only with the simplified tax rate of seven percent. Goodybe tampon tax, because periods are not a luxury!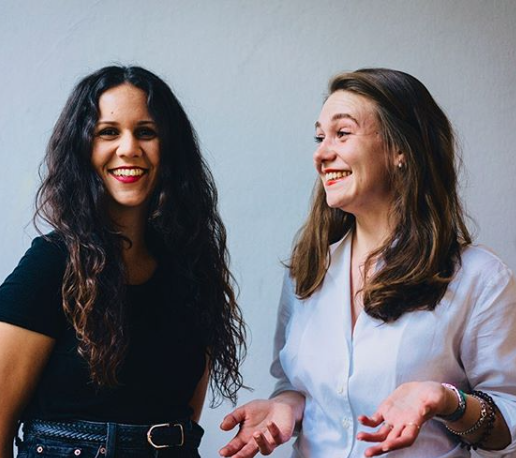 Thank you from the bottom of my heart
The successful petition and the tireless efforts of Yasemin and Nanna have paid off, because since January 2020, menstrual products are now only taxed at seven percent. Thank you for your innumerable discussions with politicians, thank you for your educational work, thank you for your perseverance, thank you for normalizing menstruation! Thank you, thank you, thank you! But this is only the beginning. I am curious to see which sleepy politicians will be woken up by the these two and where their menstrual journey will take them. The next project is already in the making: free menstrual products in public toilets in Hamburg. I'm definitely a huge fan of the two and will follow every step attentively and with a lot of curiosity – and you should do the same!
What about panty liners?
The new taxation is almost completely successful. Unfortunately, a small questions remains. Because the reduced tax rate applies to all period products except panty liners. This means that panty liners are still taxed at 19 percent. You might ask yourself why? So do we! It is said that panty liners are not used exclusively for menstruation, but rather for daily use. Unfortunately, the logic of politicians makes no sense at all. Because the reduced tax rate is supposed to apply to products of daily use. Well, at least the menstrual world remains exciting.