"Is the vulva still a taboo"? I'm sitting in my living room, three self-painted pictures of vulvas enthroned on the wall behind me. Across from me sits a journalist asking me this question. I hesitate, think about it but it's clear: "Yes, the topic of vulvas is (still) a taboo". Not so much in my apartment or on my Instagram account, where numerous vulva artists cavort, not so much in my circle of friends or in my "bubble" sensitized to vulvas. But in my opinion in the broad social discourse it is.
The vulva: mysterious and afflicted with shame
This taboo also influences me. Although I often deal with topics related to the vulva in depth, the dialogue about it is sometimes still associated with inhibitions. So, why can't we talk to our superiors about the vulva and menstruation in the same way we talk about our nose and nosebleeds? Why are we embarrassed to talk about vaginal fungus with our friends? Why do we say cunt, pussy and belittle the vulva when we don't do the same for other parts of the body, such as the legs or the ears? My answer: Because the vulva is still shrouded in a mysterious taboo and at the same time in shame and inhibition.
The vulva and things related to it, such as sexuality or menstruation, cannot be talked about openly. When these aspects are discussed, it is often in a euphemistic, idealized way. The vulva is supposed to conform to a certain ideal of beauty. Menstruation must be invisible and smell good. This creates and reinforces shame and inhibitions because it is not even possible to fulfill these ideals. All vulvas are different and menstruation does not smell like roses. That's okay. Diversity is the norm.
A norm that should not exist
Unfortunately, this is not how it is portrayed in the media and in porn. This causes feelings of shame, which, together with inhibitions about vulva-related topics, can lead to considerable distress. For example, Hilde Atalanta (2019, p.20) writes in her book "A Celebration of Vulva Diversity" that people with "non-normative" vulvas can feel uncomfortable, find sex stressful and have lower self-esteem. This can lead these people to expose themselves to potentially more dangerous sexual situations, such as unprotected sex. This is all due to a rejection of one's vulva because it doesn't fit the norm – a norm that really shouldn't exist.
The sheer number of plastic surgeries shows how deeply rooted the shame about one's own vulva is in our society. Anne Kreklau et al. (2018) mention in their study "Measurements of a 'normal vulva' in women aged 15-84: a cross-sectional prospective single-center study" that more and more people undergo vulva lip reduction because they feel pressured by prevailing beauty ideals.
Language against taboos
What can we do to reduce this shame? How can the vulva be de-tabooed? How can we raise awareness of the diversity of vulvas? These questions have been on my mind for some time. One answer, in my opinion, concerns language or naming. If we learn to apply correct anatomical language equally to genitals as to other body parts, we can normalize the issue. Complaining about a broken leg, an itchy nose, or an aching vulva is then equally possible without shame.
Vulva art as an antidote
I found another answer to the above questions: In art. In the summer of 2019, I started painting vulvas. In the spring of 2020, this resulted in "Vulveria," my vulva art project, which, in addition to de-tabooing and raising awareness of the issue, also raises money to support feminist projects. My vulvas are big, small, colored, golden, black and white, round, angular and thus show diversity. They are abstract and playful, which makes them more accessible. I believe that by depicting the vulva, an awareness of this taboo subject is created.
Many people are fascinated by the colors, see flowers or even bicycle helmets in the pictures. When they learn that the pictures are of vulvas, most are surprised, embarrassed or delighted. The initial fascination helps to engage with the subject. So in addition to depicting a beautiful, diverse subject, the images have the power to encourage dialogue. Since I started painting vulvas, I've had countless conversations on the subject. It has helped me to recognize and actively overcome my own feelings of shame. First, by devoting my time and energy to the subject: How do I feel about my vulva? What exactly does it look like? Am I ashamed of it and why?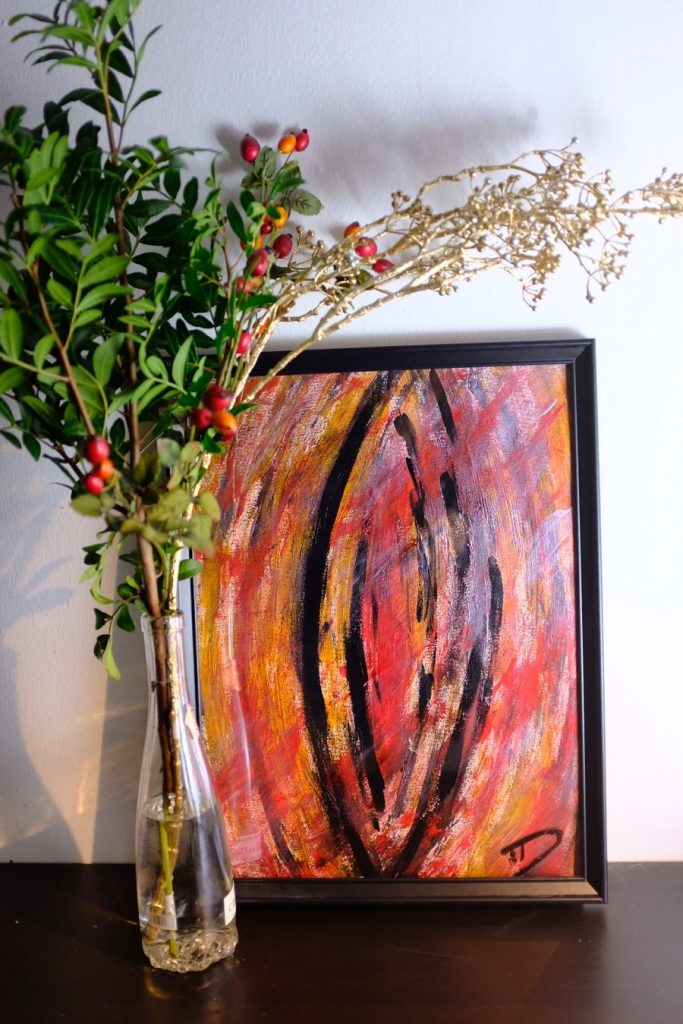 Photo Credits: Dunja
Open dialogue through vulva art
In addition, I began to deal with other vulva artists and quickly realized that they also like to show diversity and try to reduce shame and inhibitions. My own shame diminished with every vulva that I saw. I quickly said goodbye to the alleged "ideal vulva" and diversity became my norm. This was followed by many conversations with friends, but also with my parents and even with people at work.
The starting point has always been my vulva art project. This has shown me: art offers a possibility for discussion, for exchange and serves to raise awareness and visualization. Perhaps even gradual normalization. In the meantime, I regularly receive photos by people in my environment of vulvas they recognize in everyday life in fruits, trees or rocks. This shows me: they have opened up to this topic and it is more present for them. They are consciously looking and are not ashamed. This is just a small step towards minimizing the taboo. However, if looking can help people feel more comfortable and secure, it is a big step towards more well-being and physical and psychological freedom.
Vulva art: Let's paint vulvas!
My vulva art has shown me: small actions can make a big difference. The chance to stimulate reflection in one's own environment and beyond is real. It needs people who consciously turn to the topic. People who have exhausting, nerve-wracking conversations. Conversations in which they have to explain themselves for their work on removing taboos. Each explanation can mean opening up to interest, tolerance, less shame and fewer inhibitions. It takes people who are enthusiastic to find creative and playful ways to raise awareness. Have you ever drawn a vulva? Have you ever talked about vulvas with your parents or your bosses?
I encourage you to dare to engage in the conversation. I would like to see an open dialogue on the topic of vulvas and for diversity to be brought into everyone's consciousness. It needs to be normalized. I wish for vulvas to no longer have gender, which means they are not automatically connoted as female. Such a perception can be discriminatory, as there are many people with vulvas who do not identify as women, such as non-binary people or trans men.
To return to the question from the beginning: Yes, the vulva is still a taboo, but not an untouchable one. We can image it, name it, celebrate it, and in this way sensitize and normalize it. I bet like this, it soon won't be uncomfortable anymore to talk about vulvas or menstruation in public. So, let's paint vulvas!