Inhaltsverzeichnis
Everyone should learn how to manage their menstrual health in a positive way, without being embarrassed or ashamed. It's a reality of life that we are all facing and it's important to provide children with the information they need to be confident in their body, from an early age. That's why we have created our beautifully designed online course to teach your child about their first period. We want to support your daughter to develop a loving feeling towards her body from the beginning on. Since the menstrual cycle most probably will be a lifelong companion.
Periods are a natural part of life and an important milestone for kids to look forward to. The first period can be a scary, confusing and an emotional experience for young people. Especially if they don't have the right information. Educating the next generation about female anatomy is super important to help them make informed decisions about their health and wellbeing.
The problem: Stigma and taboo topic menstruation
Did you know that 60% of girls have a negative attitude towards their own period? It is observed that most of them do not feel comfortable with menstruation and this leads to insufficient knowledge about it. The taboos associated with menstruation sometimes prevent them from getting the right information.
Menstruation is a natural biological process. However, the idea of menstruation is still considered to be a taboo in many societies around the globe. It's regarded as something "dirty" and "shameful" by many people who have never experienced it themselves. This stigma that surrounds periods leads to an environment where kids are made to feel ashamed of their bodies and what they're going through during puberty. A mindset that often persists into old age.
Children need a safe space when learning about their body
A lot of kids are anxious about their first period, so they might even be afraid to talk about it with their parents. Often children at this age close themselves off a little, do not like to talk to their parents, but prefer to turn to friends with questions. They need a private and safe space, where they can learn in a fun and interactive way about the changes happening in their body during puberty.
Even as a parent, sometimes it is hard to find the right words to teach your child about the first period, menstrual cycle and puberty. Then there is school. Yes, your child gets super basic information about sexual education in school. But school has to teach children about a million things and there is only so much time. We therefore believe that the subject of menstruation is given too little attention at school.
This is also confirmed by dozens of adolescents and parents with whom we have spoken. Too few menstruating people know that their menstrual cycle is a process in which they have control, not the other way around. We as a society need to raise our kids with a positive feeling towards their own bodies and periods.
Why did we create an online course to teach about the first period?
That's why we have created our online courses to teach children about their first period. To support you as a parent, to support schools and to support your child to have a great feeling about their body. We want to build a strong foundation, so your daughter is not ashamed of her period and has the right mindset to easily manage her first (and coming) periods confidently!
We created a safe and anonymous space, where your daughter can learn independently and can ask any question she might have on her mind. It will teach your child how to manage their menstruation positively for a lifetime. It is an investment that will pay off, in emotional health, stability and wellbeing as well as body positivity.
How does the course teach about the first period?
We transform an allegedly heavy topic into an experience your daughter can't get enough of. We have broken down the topic into short fun videos that cover everything your child needs to learn about their first period. In addition there is also the audiobook about Lily and her friends. It's a beautifully crafted story woven around the educational videos covering everything around puberty and menstruation. Before every educational video , there is a chapter from the audiobook with awesome illustrations, creating a lovely backstory your daughter can relate to.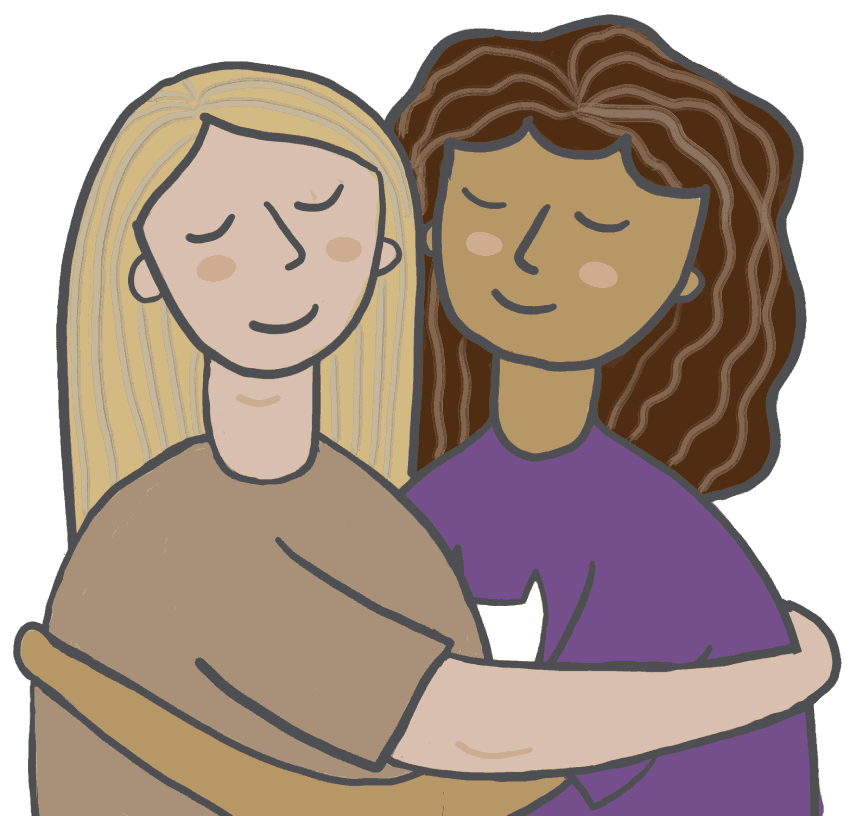 Join Lily and her friends on an amazing adventure
Lily and her friends are such a cool group. Lily is an eleven year old girl from Mexico who just got her first period. Overwhelmed she sought help from her best friend Aubrey. Together with their other friends Mei and Armin, they experience amazing adventures while growing up and experiencing their periods. Every adventure is a unique story perfectly introducing the following topic, our instructor Britta will talk about in the next video. This will keep your daughter even more entertained, ensuring a steep learning curve and knowledge for a lifetime.
Britta shares valuable knowledge
Britta, our menstrual expert, shares everything your daughter needs to know for her first period. We created short, interactive and fun videos where your child will forget that she is actually learning. We also provide different templates and additional resources that will help your daughter to get to know her body better.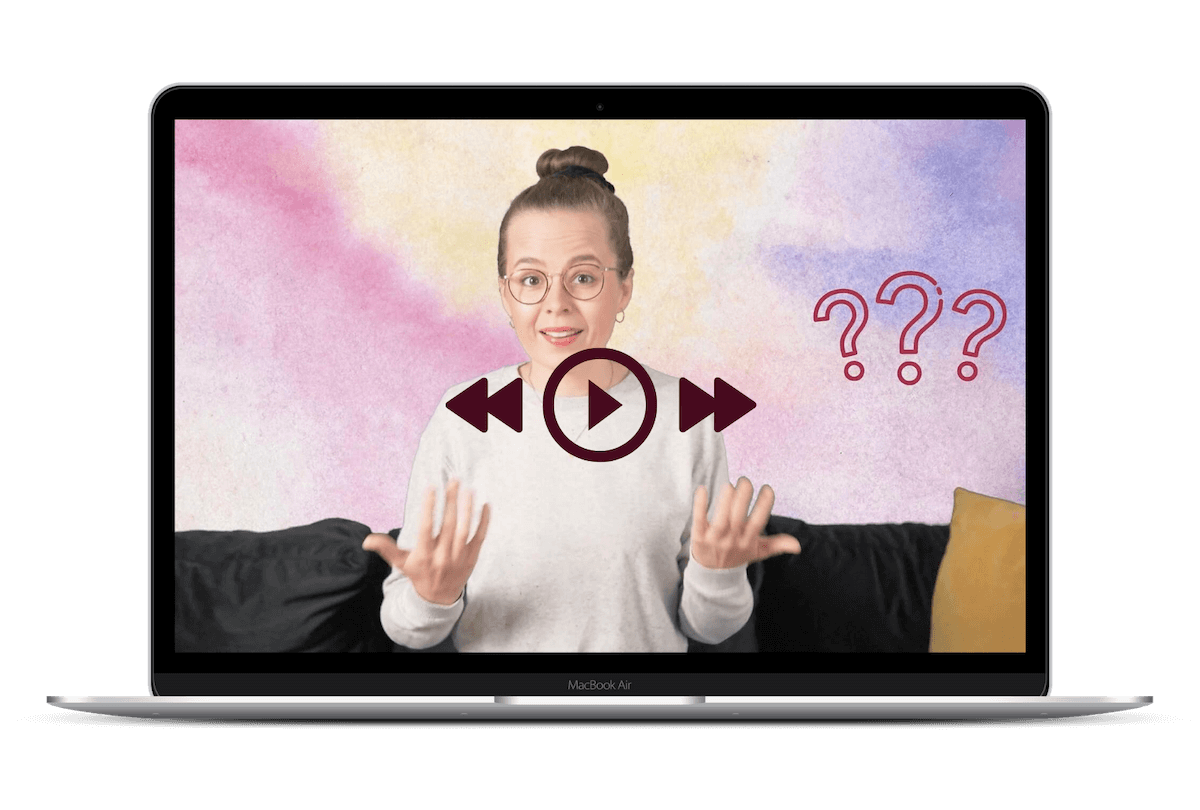 What topics are covered?
Our online course for children about first periods holds an extensive amount of knowledge of general sexual education. We divided the online course into two parts. Part one answers all the questions around the bodily changes happening during puberty and menstruation: What happens in the body during menstruation? What changes are happening in your body? How do hormones influence the menstrual cycle? How to talk about menstruation with others? What are the best tips and tricks?
In part two of the online course we're diving even deeper. Your child gets to know all the different period products and how to use them correctly. From tampons to pads, period underwear or menstrual cups, we're covering it all. In the end Britta created a few modules, where your daughter will learn about the menstrual cycle as a recurring monthly process. How hormonal changes might influence the mood or energy levels and how to deal with it in everyday life. It's an extremely powerful source for self-love.
How to take the first period course
We created the online course for children aged 8-13 years old. It is developed as a self-paced experience. So your child can start right away, directly after registration and start, stop and continue whenever they want. You need an internet-enabled device with a screen to participate in the online course. This can be a smartphone, but also a laptop, computer or tablet. A printer is optional, as we provide templates that can be printed out.
There is no expiration date for the access. The course has a one-time fee of 29€ (≈ 32 USD) per part or 49€ (≈ 55 USD) for both parts as a bundle. We do recommend starting with part one first, because it shares important knowledge to be able to easily continue with part two. For further questions you might also want to visit the online course page.
Note: the online course will be available in mid-March. If you are reading this article before the online course is available, sign up below and we will notify you when it is online.
When is the right time to take this course?
This online course is both for children who haven't got their period yet and for those who already experienced a few periods. In the first case, learning about the first period is super valuable to create a positive mindset about menstruation from the beginning on and to remove any fears she might have. In the latter case this course provides a comprehensive overview of all your kid needs to know about different period products or the menstrual cycle. It helps to gain great knowledge to start a beautiful new chapter of their life.
Why is a positive education about menstruation important?
One of the best ways you can help your child growing up being feeling good in their body, is by giving them access to valuable and positive sexual education. You can help your daughter have a relaxed attitude about her first period by learning about it through our online course. She should see it as a normal experience of puberty, not as something "wrong that happens between her legs". The onset of menstruation is a sign that your daughter is transitioning from being a child to a grownup. With menstruation, the body is indicating it can eventually have children. While periods and the menstrual cycle may be unfamiliar at first, it does not restrict life in any way (except for extreme menstrual cramps, which should be discussed with a medical professional).
Parents are always looking for the best way to help their children prepare for life. Whether it's a new sibling or a tough subject. With our online course your child will learn everything they need to know for their first period, puberty and beyond! Children should grow up with a positive feeling towards their own body and menstruation. Period.
To wrap things up
Your child's first period is a very important event in their life. They will want to learn everything they can about it so that they are prepared and know what to expect. An online course is the perfect medium to introduce such personal and intimate knowledge. This online course contains all the information to teach your child the basics, from how to read their body's signs to what periods products there are or why they're suddenly feeling different.
Lily and her friends will share their funny experiences about puberty along the way, too, so your daughter has always someone to relate to. Check out our first period online course so you can help your daughter feel less nervous when the time comes for her to get her first period. We hope this course helps you and your children through the transition of puberty in a healthy, positive way!